The suggestion of a COPD patient using fasting as a tool to manage their disease will raise the odd eye brow. However, the many benefits of fasting would indicate it being a worthwhile strategy to explore for respiratory patients.
What is fasting?
Fasting is consuming no calories over a set period of time, it can be carried out in a number of ways. Water fast, fat fast, intermittent fast and prolonged fasts just to name a few. For the point of this blog post we'll discuss a prolonged water fast as this is the one I have just completed.
The aim of fasting is to take little to no calories in for the period you're fasting. Some of the benefits of fasting include weight loss, reducing oxidative stress, rejuvenating stem cells in the immune system, reducing blood/glucose and insulin levels. The main benefit of fasting I'm interested in is the suppression of inflammation.
The study
At this time, there has been no studies into the benefits of a fasting protocol for COPD patients which I'm aware of. While fasting is not for everyone, there is a population of patients, myself being one of them, which are relatively stable patients in a healthy weight range. This could well be the ideal study group, as adapting to a fasting protocol would not be terribly difficult.
In today's world, if you can't bottle it and sell it, there will be little interest in studying it. If fasting or nutritional strategies are to become widely used then I suspect it will be driven by patient experience rather than large expensive studies.
I recently completed a 5 day fast which consisted of water, green tea and bone broth. Carrying out a 5 day fast cold turkey is not something I'd recommend as the first 2 days may be hard to get through. My fasting plan was to consume at least 2lts of water per day and using green tea and bone broth as I needed.
Bone broth can provide your body with valuable minerals while fasting, including magnesium, calcium, potassium. Green tea has zero calories as well as great antioxidant properties.
I have been using a ketogenic diet for nine months. This diet mimics some of the effects of fasting. My decision to take part in a five day fast was more for the effects on inflammation and the rejuvenation of my immune system which has taken a beating over the last 3 months.  I contracted a nasty chest infection whilst overseas earlier in the year which lead to the most severe exacerbation I have experienced since diagnosis.  Basically, I was willing to try anything in order to feel a little better.
The fast
Being on the ketogenic diet gave me a good foundation to completing the fast due to the low amounts of carbohydrates I consume daily.  Also, I generally only eat only 1-2 meals per day. I have also incorporated a 24 hour fast once a week into my nutrition strategies.
The first 2 days can be the toughest as your body depletes itself of glucose and converts over to using ketone bodies as fuel. Due to being already adapted to ketones I had no problem as my glucose levels were fairly low at the start of this fast.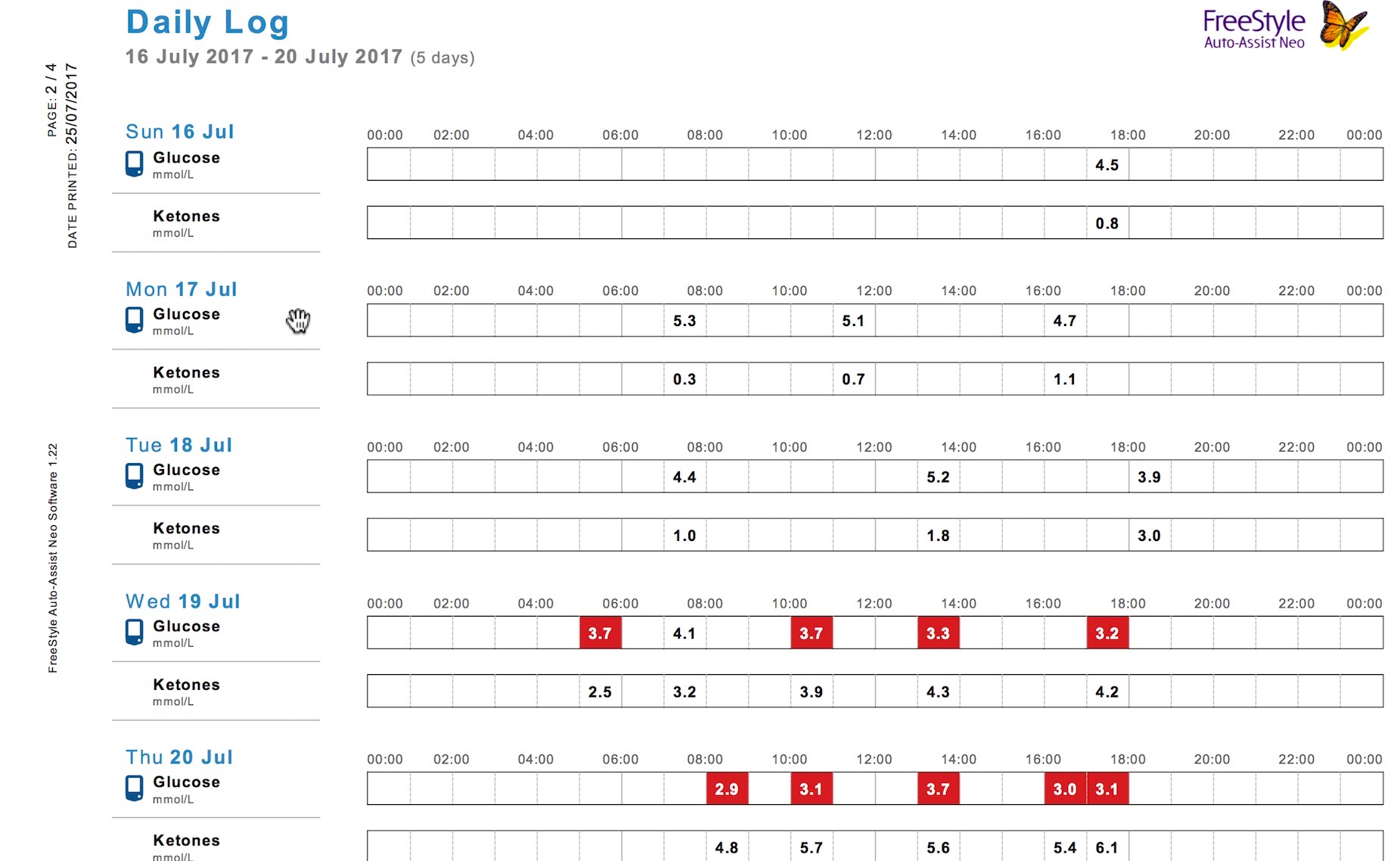 My first four days were uneventful as I didn't have hunger pains and life went on as normal. I completed a gym session on day three and walked every day. I think it's important to keep busy while fasting so you're not thinking about food.
By day 5 I had noticed a boost in energy, this increase in energy correlated with my high ketone levels. What surprised me about this fast was the longer the fast lasted the more I was thinking I could go another 2 or 3 days easily.
Unfortunately, I was not able to record my spirometry over the fast but I did monitor my oxygen levels, which remained above 96%. I did not notice any difference with my breathing in the first 3 days, however day 4 and 5 I felt less laboured in my breathing. I'm not a scientist but I do know the less inflammation in my airways, the easier it is to breathe
What I hope to find
I had a range of blood test toward the end of the fast which will cover such things as inflammation markers, insulin levels and general blood examination. What I hope to see is suppressed inflammation and insulin levels with other blood markers being in a normal range.
At the time of publishing this article I can report on two results. C- Reactive protein levels are <5. CRP is a marker of inflammation, many COPD patients have very high levels of inflammation. Fasting insulin is 2 mU/L which is well within the accepted range of <25.
So far so good, I'm looking forward to seeing the cytokine blood panels when they are back. Stay tuned for my follow up article and review on all of my fasting tests.