Mary and her only sibling, Rebekah, have a rare genetic disorder called Primary ciliary dyskinesia (PCD).  Mary runs to raise awareness of PCD, lung diseases, rare diseases and oxygen needs.  Her goal is to run a race in every state and to complete a marathon in 2017 if not sooner.
PCD is a progressive lung disease.  Mary currently has 40% lung capacity and requires supplemental oxygen when she runs. She wears a portable oxygen concentrator attached to a back pack when she races.  Her sister had a double lung transplant in June 2014.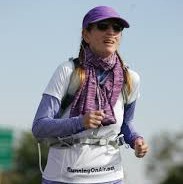 Mary continues to race despite other obstacles related to her lung disease.  In October and November 2015 she took part in the Army Ten Miler and the 10K Across the Bay with an IV for antibiotics.
Mary has talked to several groups to raise awareness including at the FDA and Georgetown Hospital.  Mary and her sister where patient speakers at the American Thoracic Society's conference in May 2016.Mary grew up in Silver Spring, Maryland, and was about three when she started exhibiting symptoms related to Primary Ciliary Dyskinesia (PCD), but despite years of consultation with multiplespecialists and numerous surgeries, it wasn't until she was 17 that her condition began to be correctly diagnosed.  In the meantime, her condition had progressed from simple coughing to bronchiectasis (a condition that results in scarring to the airways) and repeated lung infections.  A nasal biopsy in her early 20's showed structural defect to the cilia.  A DNA study out of the University of North Carolina confirmed the PCD diagnosis.Despite the need for intravenous antibiotics once or twice a year, along with a daily regimen of nebulized bronchodilators, other medications, and techniques to help clear her lungs, Mary manages to live a fairly normal life. She attended the University of Maryland Baltimore County (UMBC) where she graduated with a bachelor's degree in Information System Management.  She is currently employed by the U.S. Commerce Department.
Around 2000, Mary decided she wanted to start running.  It was something that had always been difficult, but within a month she was able to run for 30 minutes, and she was eventually able to work up to running for an hour at a time.  But after more lung infections, running became harder.  She struggled for over a decade with periodic attempts at running, but even a minute of exercise left her exhausted and almost unable to function for the rest of the day.
Then, on January 1, 2012, after several weeks on IV antibiotics, Mary started to notice her balance was off.  Within a week she was diagnosed with ototoxicity.  She lost her ability to walk a straight line and couldn't drive for over 4 months.  Luckily, her body and brain were able to compensate and within 6 months life was pretty much back to normal.
During the summer of 2013, after trying to run again, Mary started checking her oxygen levels.  She discovered her blood oxygen levels were dropping too low when she tried to run.  Her pulmonologist, prescribed oxygen and in February 2014 Mary was again able to begin working on running.
Initially Mary could only run for 30 seconds at a time.  After 5 months of training, she was able to do her first 5 minute interval. Training has been slower than in the past.  She is determined to get to the point where she can run a mile continuously.
Mary had always wanted to run the Army Ten Miler (ATM).  She initially registered with a friend in 2004, however was unable to run because she had pneumonia.  Finally, on October 12, 2014, she participated in her first ATM.
Mary met her husband, Ed, in the spring of 2008 and they were married in December of that year.  Mary ran her first actual race, a 5K, at the Celtic Classic in Bethlehem, Pa., on September 27, 2014.