I've settled into the cooler climate of London and am loving the change in conditions. After the long hot Australian summer my lungs are appreciating running in the cooler weather. I find it interesting how some patients prefer the cool while others prefer the heat. I guess this underlines the differences in lung disease.
Miles in my legs
My preparation for the London marathon has been my most disrupted since being diagnosed almost 6 years ago. The heat of summer has limited my ability to complete all training runs. The result has been a feeling of being a little underdone for the race. My training program is 26 weeks long with a number of crucial long runs at certain stages. The longest run is 32k, 5 weeks before race day. Unfortunately my body wasn't quite up to this distance and I pulled up at 27k. While it's only 3k less it does play on my mind that I came up short.
On the positive my only lead up race in this preparation resulted in my fastest half marathon time ever. All in all I feel confident of finishing the London marathon, however my dream of running it in under 5 hours seems to be just a dream now.
Nutrition
For those of you who have followed my journey you would know how nutrition has played a big part in managing my disease over the last year or so. From changing to a lower carbohydrate diet and in the last 6 months moving to a ketogenic diet. I'll be running the London marathon using ketones from eating a ketogenic diet as my major fuel source. How this plays out on race day will be a learning experience, a good one I hope as I have really enjoyed the benefits of this way of eating.
While I have noticed a number of benefits to eating this way the most noticeable has been the ability to breathe easier than before. How that has come about will be for another article. The other major difference is weight loss so I will be much lighter than when I ran the New York marathon in 2015.
Eating a ketogenic diet means my body will use fat as the major fuel source for energy rather than the sugary energy gels I have used in the pass. This will be quite strange as I will provide my body with fuelling for the race at breakfast rather than taking in calories constantly over the course of the race. I look forward to sharing this experience in my race summary.
Respiratory Ashes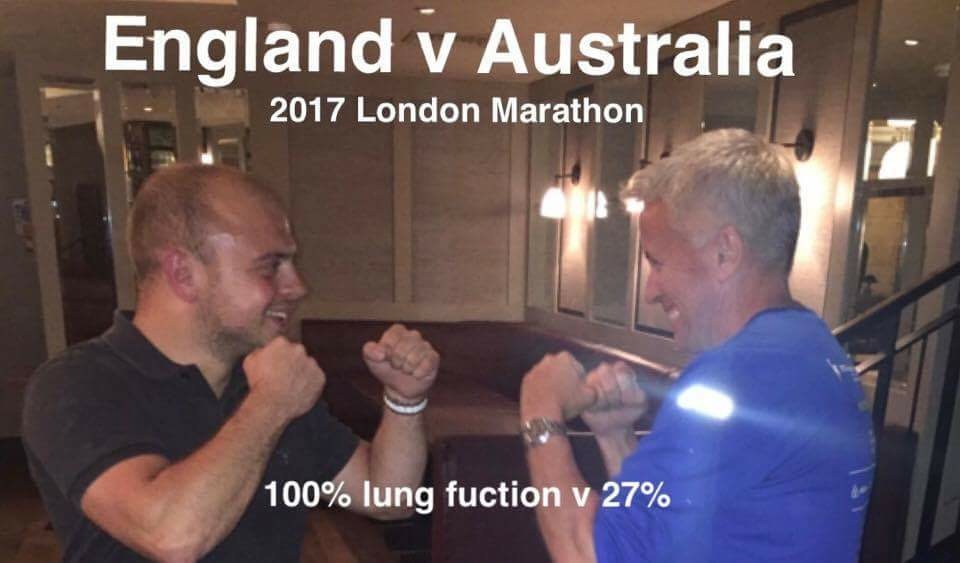 The London marathon will have an added component to other races for me as I will be racing a good friend in the marathon. Dave Lawrence doesn't have lung disease and is a fit and healthy young man but he will be giving me a 96 minute head start. That is to say he will have to beat me by that much to win the trophy we have name the "respiratory ashes ". This battle is all in good humour, providing the opportunity to raise some funds for lung research.
Dave has been touched by lung disease after losing a family member a couple of years back to this disease. This year he joins me in fund raising for the British Lung Foundation to help fund more research into lung disease, which is an honour for both of us.
What ever the result is on race day it will be secondary to why we are running. Dave is running in the memory of a family member and I'll be running for all those patients who can't. Our reasons to run is what will get us through!