When you wake up on the morning of a major race you hope your day will run according to plan. You hope the many months of preparation will stand you in good stead for the race which lies ahead. Mostly you hope for suitable weather conditions. Then you wake up to the 2018 edition of the Boston Marathon and all plans are thrown out the window.
The forecast for race day was predicted to be bad several days before the event, but nothing prepares you for what competitors faced on race morning. Indeed, one of the biggest challenges of the day was whether I should go to the start line or head back to bed.
Sideways rain, howling winds, extreme cold, a little snow and the odd clap of thunder to keep you on your toes. Wet muddy feet to start the race was standard for all competitors. If you managed to stay dry before the start of the race it wouldn't be long before you became water logged through the streets of Hopkinson.
As a COPD patient these aren't conditions to be taken lightly, in fact the decision for me to go to the start line was not taken lightly. But in the end my decision came down to how would I feel if I didn't have a go and had I prepared adequately? I had taken as many precautions as possible to keep dry by using layers of waterproof clothing. I had sought advise by experts about how to layer my clothing, so I could keep warm. I had tested my lung function the morning of the race and all was good.
I've race in some bad conditions before, but this was next level and was going to be a challenge. Any thought of setting a quick time was shelved, today was about survival and raising awareness for COPD! As I set off from the start line my first thoughts were how many blisters would I have on my feet by race end. My shoes and socks were soaked and every stride I took felt like I was running through puddles of water. Within the first mile of the race the wood fired heating used in homes were starting to affect my breathing – this was going to be a long day.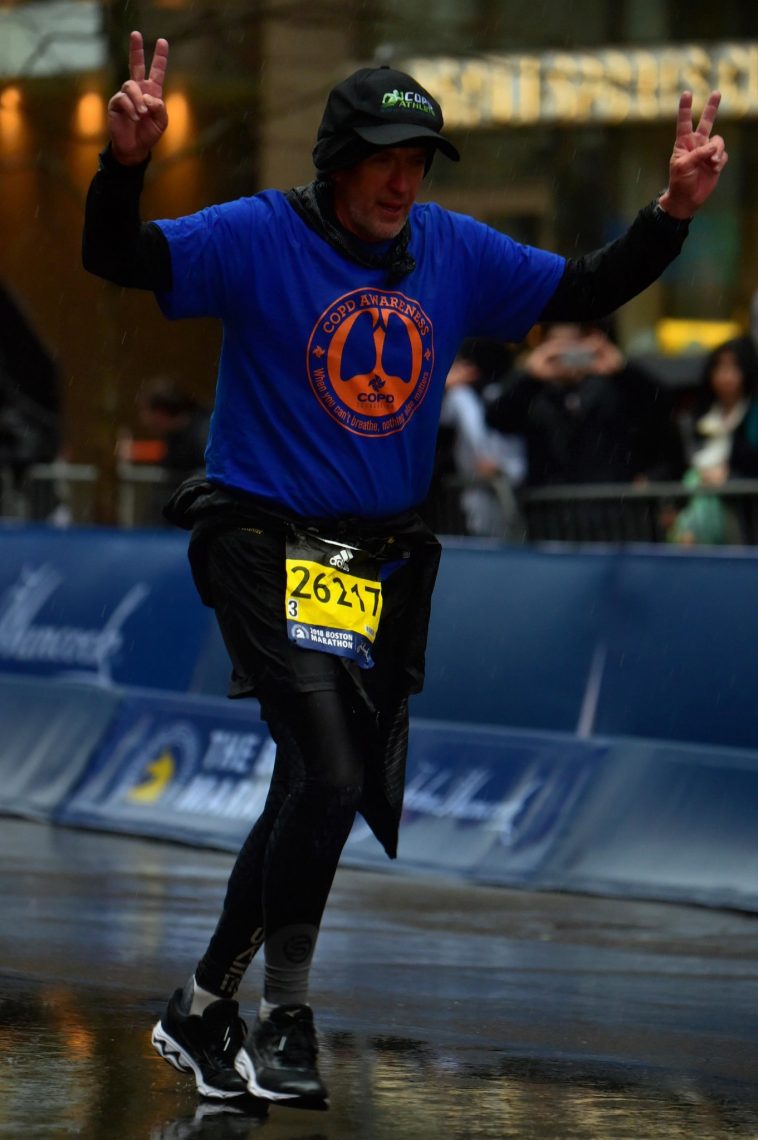 Like any marathon I had competed in previously you try to find your running rhythm early. With all the ailments being missiled at me from the start of the race finding a rhythm was near impossible. Running marathons is a little like life in so far as sometimes things don't go according to plan. In a race, as in life, when things don't go according to plan, it's time for a new plan.
The new plan was all about finishing safely and minimising the risk of sickness after the race. For me this plan meant walking the uphills and running the downhills. Avoiding the flooded and slippery areas on the course and keeping my heart rate at a level which wouldn't be overly taxing on my body.
I knew how long I had to complete the race, so I adjusted my pace according, so I has moving quick enough to finish but at a pace which my body could cope with. When you have a chronic disease and your body is operating in an extreme environment it's critical to minimise the extremes wherever you can. I couldn't change the extreme weather, but I could limit the amount I pushed myself. As I sit here writing this article six days after the Boston marathon feeling ready to race again, I know the decisions I made on race day were the right ones for me.
By mile five I had what I call my marathon mojo on! I was racing to a plan and this plan was working. The miles were ticking by and I was feeling good. The marathon course was full of locals lining the streets cheering and encouraging me through the treacherous course. For me, encouragement is one of the greatest gifts you can give and receive, there were bucket loads out on the course on April 16, Patriots Day! This is one of the reasons I run marathons. The comradery from fellow competitors and spectator support is a display of human nature at its best.
I always look for the half way point of a marathon to access how I'm doing. Half way through the Boston marathon and I'm feeling good. My heart rate is down my body feels good, my breathing is under control and I'm not experiencing and soreness.
In previous races when I reach the half way point I tell myself it's all downhill from here, it helps me get through the race thinking of the last part of the race as downhill. The problem with thinking like this is the much talked about heart break hill, is in the last half of the race. So, for today this mentality was flawed. Heart break hill came and went, and I could tell you it was tough, and it nearly broke me. Truth is I was well prepared for heart break hill, I had talked to fellow competitors about how taxing it would be and had devised my strategy.
To put hills into perspective for readers who don't have COPD, imagine walking or running up a hill while breathing only through a straw. If you haven't tried it I suggest you do, then you'll have a little understanding about COPD and hills.
For me heart break hill was all about not acknowledging it! When I approached the start of the hill I looked down and didn't look back up until I had reached the top. This strategy has worked for me many times in the past and worked a treat on this race day.
The last part of the Boston marathon flew by and I suspect it was because the crowd was building as I closed in on Boston. The crowd's enthusiasm was infectious, and I was high fiving kids and adults as I run past. I was so lost in the moment I didn't realise I only had one mile to go until a spectator called out "one mile to go, you got this".
Before I knew it, I had run up Hereford street and turned onto Boylston for the downhill run to the finish line. With the crowd enduring the rain to cheer competitors home, I crossed the finish line; the 2018 Boston marathon was over for me. I raised $6000 for Tufts Medical Centre and was able to shine some light on COPD once again. All in all, a successful journey!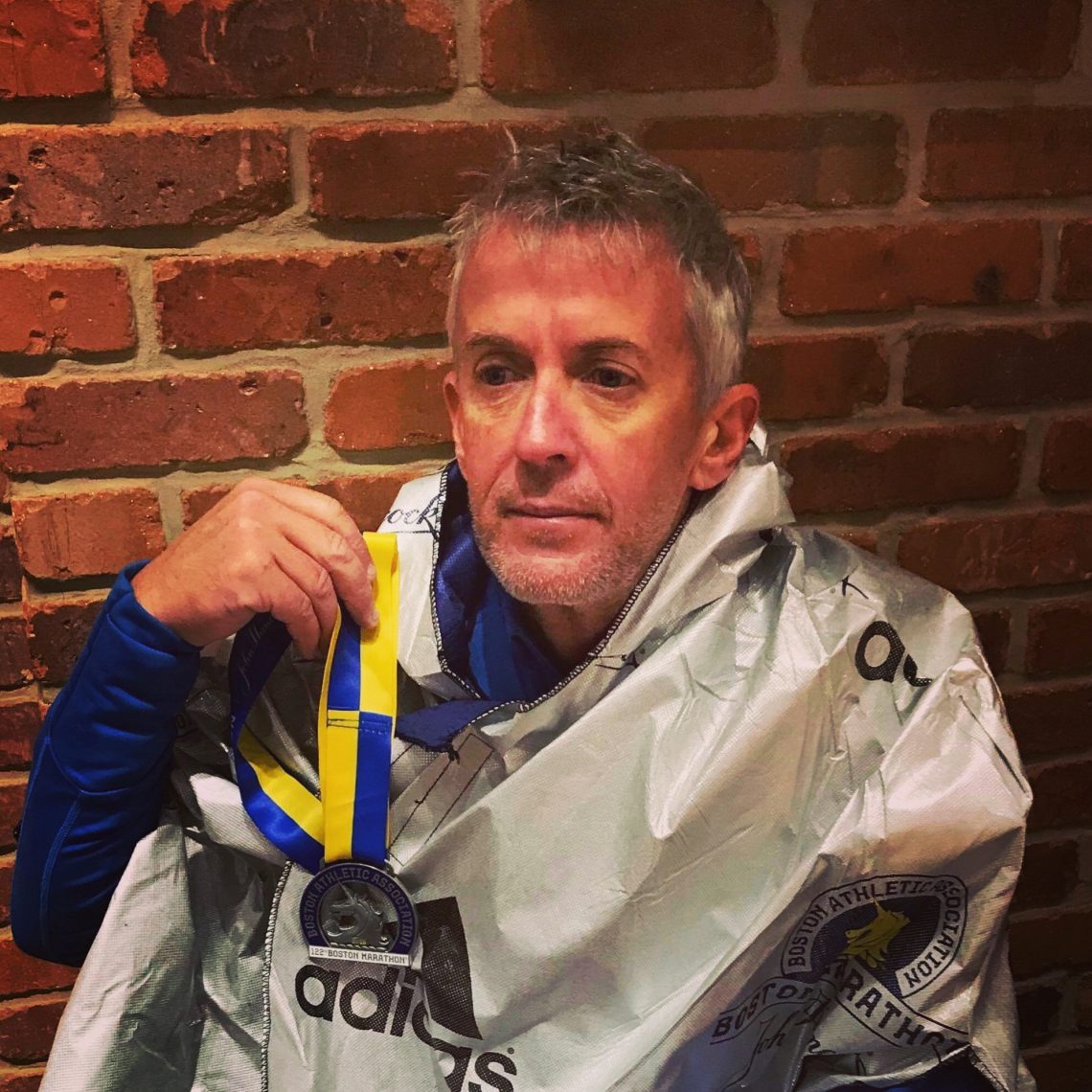 I look back on this race with pride. While physically I have completed more taxing events, mentally this year's race conditions tested everyone's resolve and is up there with some of the toughest races I have completed.
"You got this", if you've ever run Boston you'll know this catch phrase. While I've heard it in many races before, today it was emphasised by competitors and spectators throughout the race. Because on this day to finish the Boston marathon you had to believe "You got this".